Earlier this month I wrote in fairly scathing terms about the previous version of this software, which to all intents and purposes seemed prematurely released. It was slow, clunky, didn't run well on a Mac (I understand Windows users were more satisfied) and generally wasn't worth the money. I couldn't then review version 2 as it didn't even install for me, so as you can imagine I was less than positive about it all.I take some of that back now, and apologise for casting doubt. I have fixed the install issues (I had to create a new admin account, install through that and then delete the admin account), and have had a chance to test out the capabilities of the software.Let me say, however, that not all of it is good. Granted, much more positive, but there are still issues which I think ought to be able to be addressed in future releases. First, the good stuff – the software has a number of features which will make your life as a photographer far better. Shooting 'tethered' to a machine may not be right for you all of the time, but it is pretty fantastic when you are in a studio and need to get the image displayed as soon as possible. Even sitting in your office or out on location this is going to be a real bonus for you. The software allows you to create specific settings on the fly and transfers these to your camera. Once you have things set you don't have to touch the camera again… simply use the software to run the changes you need. If you find the settings are right, you can save them for later use, so there is ample room to play and recall the settings you had on a particular shoot.
There are three main windows for the Mac version of the software instead of a single interface. The Viewer displays the image last taken and gives you a file browser window, with some additional controls. It would be useful to be able to pick the size displayed more precisely than relying on full image in the window, 50% size and 100% size. For the want of a little more code, we should be able to pick any size needed.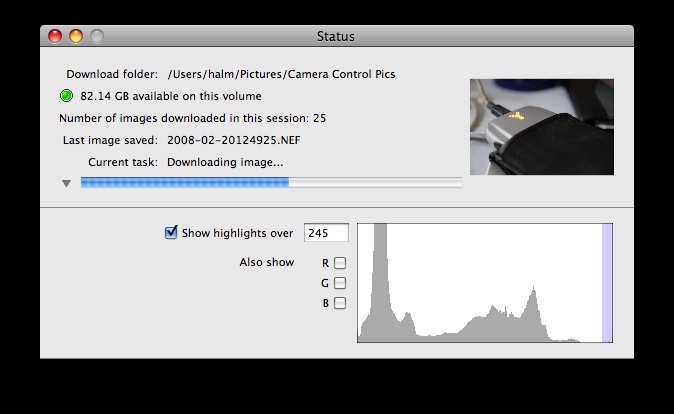 The main window with the camera controls and settings is very useful indeed, and is where you can take an image without touching the camera – 'AF and Shoot' could be excellent for self-portraits, for example, or for situations where you just don't want to touch the camera at all. The third window is the current status, either waiting for an image or downloading one. Twirl open the small triangle there and you get to see your histogram. Again, I'd have thought this would be more prominently placed and not buried in quite the way it is.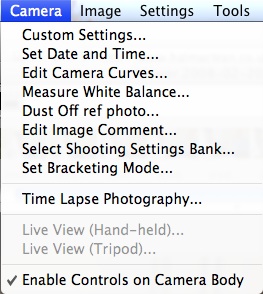 The menu bar has the usual entries, but the 'Camera' view is really quite good – giving access to a lot of tools there. The Settings is less full, but does allow you to set the option to see the image in the viewer when captured. Other menus allow rotation of images, save and recall of settings and so on.
Once you have set this software up with the right settings for you, it really is a simple but incredibly powerful tool to have. It is the initial setting up which I have some small issues with. For example, you have to go into the tools menu and select the option to display the captured image in the viewer – I think this really should be 'on' by default, after all, it is what I would think most people would use the system for and the ability to preview your images live on a screen somewhat larger than the back of your camera is essential. Why it isn't set to 'on' I don't know, and this is what I meant in my earlier review when I referred to the software as 'counter-intuitive'. However, this is really a small gripe and something easily overcome, but it indicates that there is an opportunity for Nikon to further develop this software.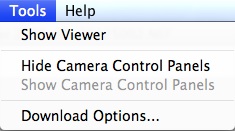 Another slight gripe has nothing to do with the software, as such. Taking a 15Mb RAW file and sending it to the computer for it to appear takes around 15 seconds. Obviously JPEG images arrive far faster, but 1Mb per second seems slow. It may be my connection, of course, but I suspect it is a combination of file size, download speed and software that is at play. If you really can't wait 15 seconds between shots, you can rack up a load of images (try shooting in continuous mode) and let them arrive when good and ready. Curiously, when I did 15 shots in this way, the speed improved slightly, taking around 11 seconds to appear on screen, with all images arriving in marginally under 3 minutes.Overall, this software does seem to be a worthy tool to have. I am still not convinced that it should be priced quite as high as it is and with the new version of Aperture supporting tethered shooting as well it may be that this software has a increasingly diminishing life span. Having said that, I think there are folk who would rather pay £70 for this than £200 for Aperture, and unless Aperture can match the ability to change camera settings, restore previous settings and do all of the other things that CCP can do, then on balance I think this will stay useful for lots of people for some time to come.