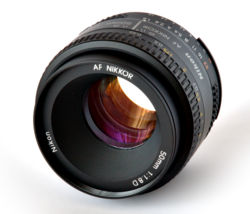 I recently found myself searching eBay for a 50mm prime lens and wandered across a seller with several lots of the Nikkor 50mm f1.8 lens. Having read reasonably positive reviews of this particular piece of glass I decided it was worth a chance, and arranged to meet the seller in Colchester.
This is the stuff of dodgy deals… meet up outside a well known PC shop and hand over cash for a boxed Nikkor lens? One of several available? Well, for £70 it was worth a punt!
The lens itself is very small and light, the aperture ring needs locking at f22 and there is no 'VR' or other similar refinements. It looks very much like an old style SLR lens, which I suppose it is. The thing is that this lens takes astonishingly clear images on my D200. So clear, in fact, that I am already wondering why I want to take this off.
When I get a chance I'll post some pics online, but suffice to say for low light situations you are going to have to go a very long way to better this optic, and whilst there is a more pricey f1.4 available, I'd steer clear – go for the cheaper f1.8. In my opinion it is better (sharper) and with a £200 saving, who could want more?
That said, I did find myself shooting a wedding recently which required me to use a wider lens, so I reverted to my Sigma 17-55 f2.8 which is also a pretty good piece of glass. However, if I had been using two bodies (which would be a Very Good Idea at such events) then I am certain one would be with the 50mm prime all the time.