I had the absolute pleasure of driving along the newly opened Skyway Extension in Metro Manila, which now connects the South Luzon Expressway (SLEX) directly to the North Luzon Expressway (NLEX), meaning travellers no longer have to do battle through the heavily congested metropolis to go from south of Manila to the north.
Joining Skyway northbound from the city of Makati means a few hundred meters of driving along Osmeña Highway, just beyond the junction with Buendia Ave. This new extension takes you right up to the Balintawak toll booths and from there directly on to NLEX itself. The old way of doing this would have been to work your way along EDSA (Epifanio de los Santos Avenue), which has long been known as a trouble spot for traffic, or winding your way through multiple hotspots going through Makati into Manila and on to Quezon City. Driving along EDSA means being in the right lane at the right time is crucial to avoiding traffic violations and fines, as well as hitting the right exit points – it is almost an art form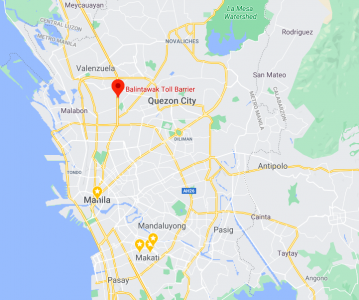 . Anyone who has ever driven in Manila will know what I mean, although local drivers seem to take it all in their stride. Getting to NLEX from Makati previously would have taken anything up to 2 hours for a 15km journey, depending on the time of day and the amount of traffic.
The Skyway extension avoids all of that, and gets you to NLEX from Makati in just over 15 minutes.
You read that correctly! I joined Skyway, maintained a steady speed at the signposted 60kmh all the way to Balintawak and started the clock ticking as I hit the on ramp. By the time I got to Balintawak, just 15 minutes had passed. I had to do a double-take, and once I had confirmed it, drove on to NLEX to see how that went. In not much more than 20 minutes I was at Balagtas. That's about 35 minutes to get to Balagtas from Makati – a notional distance of about 40km, which is much shorter on Skyway. This not only saves fuel, wear and tear on the car and driver patience, but also relieves traffic along the much troubled EDSA route.
This makes a day trip to Baguio possible – normally allowing around 6-8 hours for that journey each way, it can now be completed in a respectable 3-4 hours only… assuming NLEX and local roads further north are not too congested.
I have to say I couldn't quite believe the timing myself, so I turned around at Balagtas and returned to Makati, and there it was again. Just over 30 minutes to the off ramp at Buendia avenue.
This is a bit of a game changer to say the least. Yes, eventually there will be tolls once the charging matrix has been sorted out, and yes, it'll be expensive compared to sitting on EDSA, but time is also money. For me, I'd save the time and spend the money on the tolls just to be so quickly in the north. After all, getting old sitting in a queue of frustrated drivers all jostling for position in an incredibly busy road for two hours is no fun. Cruising gracefully along Skyway for 15 minutes to get to the same place for a reasonable fee works much better for me. Rumour has it that fee might be anything up to 240 Pesos one way, but I hope it is less! (For reference, that's roughly GBP£4.00, or just under, at the time of writing).
Well done, to the architects and construction companies for this scheme, and to those who funded it. This is a truly  excellent development, and an absolute game changer for travellers.
I tip my hat to you.