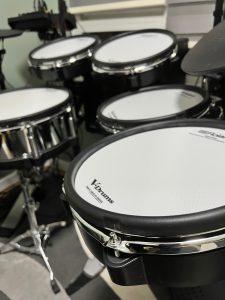 This week I have mainly been finding out about how customs duty and tariffs work when buying items from eBay. It turns out that when you buy small items from overseas (in my case, Japan) and ship them to your home address, they attract little or no interest. However, last week I made quite a big purchase to add new pads to my eDrum kit. I bought from eBay, from a seller in Japan (as I have done for many other items) and the seller shipped through FedEx.
Sure enough, FedEx impounded the goods and requested repeated copies of the sales receipt and proof of payment. In all I sent the same paperwork to three different people over five days and each time I re-sent, I was told they could not recover the files from the other person and so I had to re-send. C'mon, FedEx!!! What sort of game are you playing?
Ultimately it seems I triggered some kind of threshold beyond which excise duty is payable. I thought if the items were for personal use that was not going to attract any tax, but it turns out I was wrong. All goods coming in to the Philippines from overseas are subject to customs duty – with the small exception of household goods and items brought in by anyone setting up a home here. However, it also appears to be true that not all goods are subject to this tax, and I have bought multiple times from Amazon in Japan, eBay, and also the local markets here teeming with Chinese sales sites (Lazada and Shopee, both of whom seem to allow imported goods from China and none of which appears to get caught at customs).
Perhaps FedEx is the exception here – and all other delivery companies should be doing the same, but it does seem that FedEx is the only company checking goods inwards. Perhaps also it is the cost of those goods being higher than average, or the fact that there were 4 items all the same that suggested I was stocking a shop and selling them? I don't really know, but all in all it cost about US$120.00 to import US$600 of items. If VAT is 12% in the Philippines, then at least $72 was for that… which I guess means the excise duty was bearable.
Just be aware – if you're in Phils and buying items from overseas, shipped through FeDex, with a high net value, you're going to be hit for the tax. It's probably not only the Philippines that does this, and maybe local trade agreements and so on ease some of it.. but there is very little information online to help understand this, which makes it all the more mysterious!