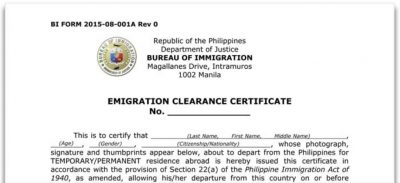 If you're a tourist in the Philippines and have stayed more than 6 months, you'll need to have a clearance certificate issued before you're allowed to leave. To the best of my understanding, this is a check on your status, whether you've paid up all your visa dues, and whether or not there is any adverse record of you from your time in the country. As a responsible person you will of course have ensured your visa extensions are all in place and paid up, you'll have your ACR-i card paid up and you'll not be in trouble with the law – no traffic violations or any of that kind of thing. All of this will be checked as part of the process, so just be sure you've got all you need paid up and dealt with before you go to get your ECC.
The Website for the Bureau of Immigration (BI) has a downloadable form for the exit certificate, and a list of requirements which is actually not a complete list. There are also plenty of websites available to help you so in some respects my information here may be superflous. However, I went through the process today, and dealt with the Makati office (an extension office to the main one in Intramuros). Some of what I had to do is not detailed in the various official websites or indeed in some of the other helpful resources you may get to read.
The BI instructions tell you that these are the requirements for the application of ECC:
Application Form
6 pieces of 2×2 ID picture
Photocopy of Passport (bio page, visa page, and latest arrival)
Photocopy of receipt of latest visa extension
Original and Photocopy of ACR I-Card
Photocopy of order of downgrading (*if applicable)
In fact, I used four ID pictures, and had to photocopy BOTH sides of the ACR-i card. They also required ALL of the visa extension receipts I had, not just the latest one. I have been in the country for a little over two years, since the pandemic lockdowns began, so I had a few to do. Make sure you complete the application form, sign and date it.
The original ACR-i card and original passport will be visually checked at the time, too. Make sure you have them with you, along with the copies.
Location
5th Floor, Circuit Mall, Makati.
The BI website tells you the extension is in JP Rizal, just about opposite the Makati City Hall, but that is now incorrect. They moved to Circuit Mall during April 2022, which is actually a much better place for you to go to.
When you get to Circuit (front entrance), go up in the elevator opposite the McDonald's outlet and exit to your right on the 5th floor, you'll see signage pointing the way there.
In the best 'boy scout' tradition, be prepared! The golden rule before you get there is to photocopy everything you think you'll need.
Photocopy your Passport ID page.
Photocopy your Passport page with the last entry stamp to the country.
Photocopy any receipts you've got for ACR-i card payments, visa payments made, or any other official fees you've paid during your stay. Don't omit any, they check all of it.
Photocopy your ACR-i card – both sides.
Then, go to a photo studio and get a set of 4 2″x2″ photographs. You'll need these – get 6 done, just in case, but you will only need 4! The cost for this varies from place to place, but expect to pay between 75PHP and 120PHP.
Take a pen with you, undoubtedly you're going to need to complete other paperwork.
Take your passport and ACR-i card, too.
Remember to take your reading glasses, if you use any.
The Office
As you walk in the door, you'll be greeted by a person who will ask the nature of your business there. It's like a triage system – don't be offended, just explain your purpose and they will advise you what to do. It's to help the staff filter the sometimes very heavy traffic through their doors, and to stop those who don't need to from getting to the actual BI officers.
Once past the initial check, you'll be seated, and called in turn. There are multiple windows, but in Makati, for the ECC process, I was guided to Window 9. There was one person in front of me, the office was fairly empty (Tuesday morning, 11am), and a member of staff came out to the waiting area and did a quick check on the paperwork I'd brought with me. I'd actually missed a few photocopies, but they were very patient, and much more friendly than I'd previously experienced in government offices. Fortunately in Circuit Mall there is a National Book Store on the ground floor, and they will do your photocopies there. If you need photographs, then also on the ground floor, just outside the 'Shopwise' supermarket you'll find a photographic studio who will do the necessary (go grab a coffee whilst you wait for them to be processed). If you want a suit and tie for your image they'll photoshop that on for an additional fee, but I declined – I wasn't wearing one and thought it would be weird to go back with images showing me in that.
Protocols!
Whenever you go to ANY government building in the Philippines, be sure to wear smart clothing. No shorts, no sandals/flip-flops and no bare arms – 'cover up' applies to male and female visitors equally. Be polite, be courteous and respectful. If you are not, you will be turned away. There is no point getting grumpy with the officials, they are not going to help you if you are – just keep in mind they control your future – be mindful of that! If you struggle to hear, or understand the accent, tell them so – they'll go over anything you need. They want to help – they're not trying to trip you up over the process.
Fingerprints
Once back with the paperwork in place, having filled in another form, I then had to go back to Window 9, where they do a fingerprint scan and facial photograph using a web cam. The fingerprints went in order – left hand first, pinky finger through to thumb, then right hand, thumb through to pinky. I guess they check police records for any matches or for any derogatory records about you.
Once the scan is done and basic checks made, they will issue a paper payment slip. You'll be sent to a cashier's window where you'll pay whatever fee is due. If the office is busy, you'll sit in line and shuffle between seats as people get up to be seen to. If the office is empty, as it was for me, you'll go direct to the window. Once you've paid, you'll go back to the Window 9 officer… waiting again until they are free. If you're lucky, and the office is empty, you'll go to them right away.
They will then issue a receipt and you will think that is the end of the process… but it is not. You will need to return in 3 days to collect the actual certificate, and you'll need to present this at the airport as you check in for your flight and go through security there. The time allows for a full search of police and government records, and there is no shortcut to this.
Leave enough time for this ECC process! I was told that you cannot start the ECC process if there is more than a week until your flight (despite the clearance certificate being valid for a month), but clearly you must allow at least 72 hours for the entire process. I strongly advise you to go a week before the flight, not more, and get all your paperwork in place before you attend. Do not leave it to the last minute – this process does not work at the weekends, and you cannot pay it at the airport. Be very mindful of public holidays, or official events interrupting your time available, too.
In an empty office, with no queues, it took me less than an hour from start to finish, including getting some photocopies done. On a busy day it'll take longer and I would advise allowing at least 2 hours for the process.
Vaccination Certificates
You will not need your vaccination certificate for the process to exit the country, but you will certainly need it if you are returning at some point. If you've not done it but have had your jabs in the country, go to https://vaxcert.doh.gov.ph/and enter your information there (all dates and locations of the vaccinations, and you'll have to have had at least one booster) – you'll be able to download a certificate to use when you return to the country. Keep it safe until then!
At the time of writing, the Philippines borders are open to tourists with a valid record of vaccination from a country that has recognized protocols and procedures. In my case, I was vaccinated in the Philippines, and so I am hoping that is enough to let me back in!
Conclusion
Be prepared. Photocopy everything you're going to need – you may as well make two copies, just in case – it's reaonably cheap to do. Get your photographs done, they must be recent (within the last 3 months) and take a pen with you.
Even though the clearance is valid for one month, you won't be allowed to get it more than a week before your flight. It takes 72 hours to process, so allow enough time for that to go through before you have to get to the airport. I was flying out on a Monday afternoon, so I went to the office on the preceding Tuesday, six days in advance of the flight.
Remember to dress respectfully, and to be courteous and polite. Don't lose your temper with the frustrations from the bureaucracy involved – just go patiently through it all, and the staff will really help and guide you. If you get upset with them, expect them to send you on your way. It's your loss, not theirs!
Allow a couple of hours. There are plenty of food outlets in the mall if you need to eat, and it's a much better location than where the old office was on JP Rizal. There is at least parking too – anyone who has been through this process before may well remember the even older location along Senator Gil J. Puyat Avenue(Buendia Ave), but that office closed a while back. Not only was there no parking, but a taxi could not stop to let you out by the front of the building as it was along a highway with railings. Circuit is a much better place for a government office.