I've recently installed Site Meter on this blog, as I was impressed with the way that it can track all the details about where visitors come from. It offers a range of analysis tools, but by far the most fun is to see where in the world your visitors are based.
Site Meter provides the user with a world map that has clickable dots on it, each representing a visitor. Have a look at a recent map relating to this site. If you are reading this entry within my drupal site then your dot will be on a map similar to this right now: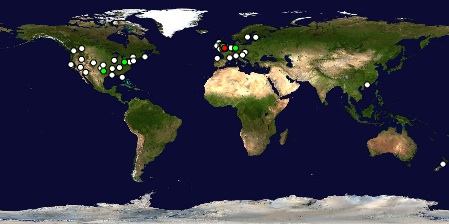 This reminds me a bit of Frappr, whereby you get to post your actual location and a few words about yourself – ideal for bringing together a distributed team… but Site Meter is relevant only to your own website.
There are different levels of use, but I am trying out the free version. Look at the very bottom of the page in the footer area to see a small green icon which will take you to the stats for this site.
Very cool… 🙂