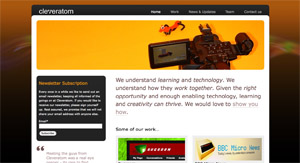 The Cleveratom website has been given a new look and a new engine, too! For the last few months we have been relying on WordPress to drive things along, and whilst it has been OK, it has never been what we wanted. It was better than a static page, but never really did the job we needed. Fortunately, that has all changed today as we moved over to the rather brilliant 'CMS Made Simple' content management system.
If you head over to www.cleveratom.co.uk you will see the new livery and be able to read all about the work that we are doing. There are many things still to add in relating to the projects we are doing, and you can always sign up to the newsletter in order to get more information on a (fairly) regular basis!
Getting a new site up and running is always traumatic in some way, and today we did battle with DNS servers, Nameservers and email records. Sheesh! No doubt we are all the better for the experience!