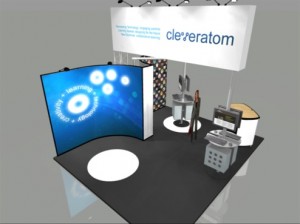 Cleveratom will once again be attending the BETT show, partnering with City College Norwich in the new technologes zone, on stands U120 and U130.
This year we will be showcasing some tools we have developed:
Thought Park – a superb new learning platform built entirely to support social constructivist learning. It is being used in Primary schools and secondary schools, supporting the roll out of the new Diplomas. It is also the engine underneath the excellent 'RUGroom.net' software that City College students will be using at the show.
Spoke – an innovative tool for engaging people in dialogue online. At it's most simple it is a questionnaire tool but it is able to be much more than that. You can create any scenario that you want to find information out about and invite anyone to participate. It is currently being used in Primary schools and secondary schools to support Personalised Learning, and in secondary schools to engage pupils in self and peer assessment. It is also being used as a target setting and self assessment tool. One size fits all? Not anymore!
Ask us also about 'Mobistick' which is a lovely web based system for collecting SMS messages from anyone. Simply provide the number and invite people to text and you can collect feedback no matter where you are or what you are doing. It also allows you to run simple polls too. We use it when presenting at conferences to allow the audience to ask a question or make a comment. It is also used by schools to engag parents in dialogue, and by conference centres to provide as a service for their clients.
We'll be delighted to talk about any of these, and much more besides, but you can find out more by going to the cleveratom website. I am pleased to say I will be working with Stephen Heppell once again, giving presentations on his stand in the main hall, and I hope that this show will be the busiest yet. It is likely to be the last at Olympia, too… or so the rumours go. It is all moving to Docklands if we are to believe the whispers!
In the mean time, see you at Olympia – click this link and it will take you to our online Christmas card and a couple of images of the new stand so you know what you are looking for when you get there!