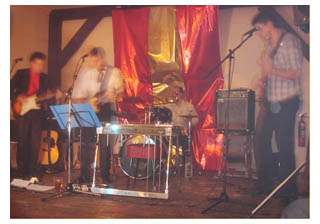 Well, it has been about ten years since I last did anything like this, but on Saturday 28th October I played in a band again!
Neil Herd (who was the tour manager for the BBC Blast tour) invited me to play drums with the Trophy Husbands at a wedding event near Northampton. I had the songs to learn about two weeks beforehand and loaded them on to my iPod, listening to them whenever I drove anywhere. We had one rehearsal in London (at The Premises in Hackney) on the Friday night and then it was all systems go for the gig.
The music was distinctly country and western, which is something I have never played before, but essentially it is pretty similar to 12 bar (in places). If not, it's definitely a shuffle of some kind!
The biggest problem (apart from driving to Northampton) was the volume – everything seemed a lot quieter than I remember it when I was playing 10 years ago. It called for the use of Multi-rods instead of the usual 5B sticks, but what the hey… it felt good to be back behind my old drum kit once more!
The kit is an old Pearl Export series from about 1988 which has served me well for all this time. I bought a new stand from Allegro Music in Chelmsford (lovely people in there these days) and used this to hang a drum from instead of using the old Gibraltar rack system.
The kit layout was:
22″ Bass Drum, 12″ and 14″ toms (one high, one in the classic floor tom position), 14″ Brass piccolo snare, 20″ Paiste 2002 power ride, 17″ Paiste Crash, 10″ Zildjian splash, 14″ Paiste sound edge hi-hats. Small, but perfectly formed and eminently suitable for the music and the gig.
Would I do it again? Yes, certainly! I don't think a regular spot in a band would go down too well with the family these days, but the occasional gig here and there, why the heck not?