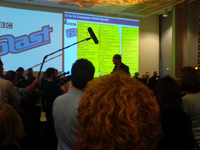 Yesterday, the Director of Ultralab, Richard Millwood, Matthew Eaves and I travelled over to White City to go to the BBC media centre. We were supporting BBC Blast at a showcase event run for the great and the good in the BBC. Director of the BBC, Mark Thompson attended the show and we were delighted to be able to give children (notably Chris and Mat) from King Harold school, Waltham Abbey, the chance to demonstrate their digital creativity skills by running an animation station.
Several good things happened at the event, but one superb piece of technology was Alexzander Blanc's SMS Stickies tool. This application allows people to send a text message via mobile phone to a central number and have it displayed on a web page. The underlying database this uses is the same as that developed for Tim Ellis's 'UltraSMS' application. Both Tim and Alex are part of the Ultralab team and are busy developing applications for us to make learning more delightful.
Matthew managed to get a few spare moments to photograph the event using his mobile phone – but don't expect superb clarity of image here!
Two clear messages from the BBC, one from Mark Thompson himself, were that BBC Blast is probably the most important thing that the BBC are doing at the moment and that BBC Blast will be running a roadshow in the summer to get young people involved in creative events. This will involve a converted truck touring the country and stopping off in city centres all over the UK. We hope to be supporting that roadshow in some form.