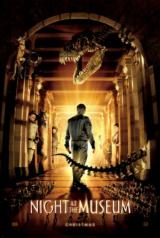 Sitting in the Freeport cinema it's often easy to miss out on the film being shown because of the younger members of the audience who take it upon themselves to provide alternative entertainment. However, today they were no problem at all and I have a suspicion that it was the film we were watching that held their imaginations for longer than usual!
In fact, Night At The Museum is a pretty good film for adults as well, although it isn't exactly a difficult plot to follow – it is aimed at those who want to have a chuckle without having to think too hard. The story is fairly obvious really – Ben Stiller plays the divorced father of a ten-year-old child, and needs a steady job in order to stay living in the same apartment. Taking on the night shift at the museum he finds all hell lets lose once the doors shut, and it is simply a story of how he brings some order to the proceedings. Oh, and there's a theft to solve and the problem of improving the number of visitors to the museum itself…
All very easy, and no real depth of thought needed, but this film has a cast of characters that make it shine just a little bit more than you'd expect. Robin Williams plays an uncharacteristically understated role, which is refreshing, Mickey Rooney makes a screen appearance (been a long time since the last one, I think), Dick Van Dyke (without the accent) is a central character, but by far the best for me has to be the British contingent. Steve Coogan and Ricky Gervais really steal the show for me, with Coogan playing a (miniature) Roman general and Gervais playing the museum director. The absolute best part for me is where Stiller is telling off Coogan and Owen Wilson (a cowboy) – Coogan's responses and expressions are priceless!
All in all this is an easy to watch, thoroughly fun yarn – I'd recommend it for anyone who wants a light hearted way to spend a couple of hours without taking anything too seriously. The special effects are bordering on OK, so don't go for those. The plot is thin, so don't go for that. The fun is definitely in the cameos from the supporting cast – definitely worth seeing Gervais and most certainly Steve Coogan… neither of whom I was expecting to steal the show quite to the extent that they do. Take the children too, they'll really enjoy it!