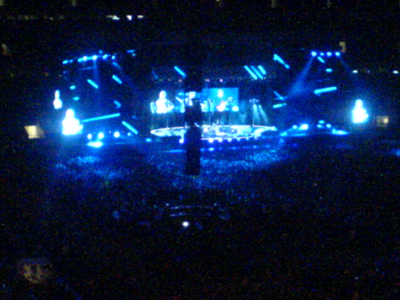 This was the first time since 1983 that The Police have played together in London and I have to say it was an incredibly good gig! I have always liked the music they produce, with some very firm favourites including 'Every Breath You Take'. However, I have never seen them live and so I was delighted to have the opportunity to do so on Saturday 8th September.
The venue was Twickenham, home of English rugby and every time I visit the stadium I am in awe of the place. This visit was no different and the very feeling of being in the ground made it a special occasion for me. With seats in the middle tier of the East stand we couldn't have been further form the stage so it was with some relief I saw large video screens in place.
At 8.25 the lights dimmed and a roar went up from some 80,000 people. On walked three tiny figures and out came the most amazing sound – opening the gig with 'Message in a bottle' was brilliant! The sound stacks were well placed and the delay between the visual and the audio was quite small, but definitely noticeable. The set raged on with classics such as 'Don't Stand So Close To Me' and 'Roxanne', Walking On the Moon' and 'Invisible Sun'. In fact there was very little that wasn't recognisable as a top 40 hit at some point or another. Crowd pleasers were definitely 'Every Little Thing She Does Is Magic' and my all time fave – 'Every Breath You Take'. No messing around with the arrangements, these were right out of the old school, sounding as perfect as they could given the intervening years. Stuart Copeland was simply awesome to listen to… so busy and still so creative. It was worth going for that alone – except when he decided to talk to the audience right at the very end. Stuart – great drumming but leave the mic alone! We know you are American, and are delighted that your heart is in London. Please keep playing the music with such passion!
Being the length of a rugby pitch away from the stage could have been a disaster. The video screens were a Godsend and the audio was astonishingly good for such a large venue. The acoustics must be pretty good in there.
By 10:15 we were done. It was a night to remember for sure, and the crowd leaving the venue filled the roads to capacity. No cars were going anywhere for a while, that was for sure. The only dampener for me was getting out of the parking area we had used – a school about a mile from the ground. It would normally take a little over an hour to drive from Twickenham home, but instead it took two and a half. Sigh. On the other hand, it was well worth it!
If you are wondering whether or not to go and see this group, just do it. You won't be disappointed if you (like me) spent your formative years with them in the UK charts each week. If you can get a seat near the front then great, if not, enjoy the lights and audio, watch the big screens and revel in whatever song is your favourite… if it got into the charts, it'll be played on the night, I think. I wish I'd kept a set list, but from memory (but not in order) these are what made the cut:
Message in a Bottle, Can't stand losing you, Wrapped Around your finger, Don't stand so close to me, Driven to tears, King of pain, Walking in your footsteps, Walking on the moon, Every little thing she does is magic, De do do do de da da da, Every Breath you take, Roxanne, So lonely, Invisible Sun… and probably one or two others.