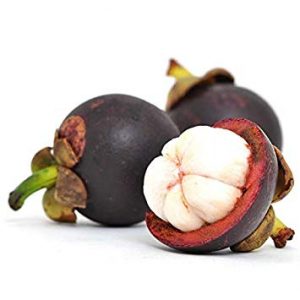 Today, after a pretty rough night spent mostly awake and mostly inconvenienced, I am not eating very much at all. I've decided to go on a bit of a detox for a day. Yes, those far more informed than I can wax lyrical about how bad that is for your body, but to be brutally honest, I no longer care. Anything I consume at the moment stays approximately 15 seconds before making a reappearance… so it is time to do two things:
1 – change my water filter cartridge
2 -eat things that only give you a really healthy benefit.
A third thing is to drink something to rehydrate myself… my poor and ageing body needs to recover!
So it is that I happened to have some Mangosteens in my refrigerator. I bought them not knowing what they were, and vowing to try them. Tropical fruits can be a bit hit and miss for me, so I was a little anxious and had thought to leave them a while. But then last night happened.
In reading about Mangosteens, most of the scientific evidence is completely inconclusive "not enough work has been done to verify the claims made about this food"… you know the sort of thing – totally non-committal, basically consigning it as a fad and whilst experiments in lab animals (seriously? They still do that?) have shown remarkable results it has to be pointed out that it wasn't a simple fresh piece of fruit they used, but a highly concentrated version of it.
The anecdotal evidence, however, is compelling to say the least. Mangosteens, the leaves, the bark from the tree they grow on, the roots… all have considerable local folklore attached to them about what they can and cannot do. From helping with dysentery and diarrhoea to actively fighting bowel cancers, fast healing of wounds and so on… naturally, once you read these claims you are slightly cynical. But, given my state this morning, it's a case of 'any port in a storm'!
The edible part of the mangosteen is inside the rather fibrous outer shell. When you cut around the middle, you can pull the shell off easily, and reveal a small set of segments – like an orange has got… only these are white. The larger segments will have 'stones' in them, about the size of a stone inside a plum or perhaps a bit larger. These are the seeds for the plant. All you do is simply take a teaspoon and spoon out the segments and pop them into your mouth. And IÂ have to say, they are simply delicious!
They have a citrus like tang, but a unique flavour – not unlike an orange, but certainly not the same. The 'stones' are easily dealt with – take the flesh off them with your teeth, and spit out the 'pip'… It's rather bitter in flavour so I wouldn't recommend crunching it. The flesh, however, is simply wonderful! These native fruits of SE Asia (where I am as I write this) are so good! You could probably add them to a smoothie, blend with strawberries or even oranges, plus a banana and you'll get a brilliant flavour. I cannot overstate this – they are delicious, and should be on your dinner tables as part of a fruit desert.
Now for the left over parts, the husky shell- you can simply cut them into smaller pieces and boil in a pan with water enough to cover them. the water will go a deep reddish-purple colour, and within a few minutes you've got a delicious drink. Add a spoon of honey (the shells can be a bit bitter) and use that for your morning brew.
Apparently, locals here in the Philippines cut into very small pieces and dry the shells first – naturally hot sunny days help with that – and then use that as 'tea leaves'. They store for ages, and make a refreshing and healthy alternative to tea, coffee or other hot drinks. I'm game to try it!
Having eaten one, the taste is so good, I've eaten two more. Within the hour my gastric issues have settled down. This is not a scientific test, but all I can say is, given the choice of a difficult time with some tablets to help me, or a few mangosteens, I prefer to have the mangosteens. Try them!
You'll be glad you did.