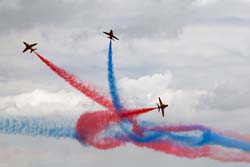 I haven't seen the Red Arrows perform for a very long time, probably over 30 years now, but I was completely unprepared for the sheer excitement of watching them fly on Friday 27th July in Lowestoft.
The Lowestoft Airshow is an annual event attended by tens of thousands of people from all over the East of England. The town copes as best it can with the massive increase in traffic as everyone pours towards the sea front to take in the sights and sounds of the day. The programme this year was started by the Red Arrows who soared and swooped in move after move of sheer brilliance. What made it even more special for me was the audio being fed over the loudspeaker system that was patched through from the cockpits of the pilots themselves. You can imagine this is a particularly exhilarating thing to be taking part in, but the whoops of joy from the pilots as they completed intricate manoeuvres at very high speed were brilliant to hear. These are clearly very highly skilled fliers who absolutely love what they do! Nothing else in the day quite came close to watching this group, although everything there was superb.
Other favourites from the day include (for me) the Lynx and Gazelle helicopters – the Lynx flies upside down – the beautifully graceful Catalina flying boat from WWII, the Blades (ex Red Arrows fliers) and the wonderful supermarine spitfire. The day was simply awesome, and the weather brillaint too – not too hot, just warm enough to be comfortable.
Also on show were a number of powerboats warming up for a race to take place the next day. Even at such a distance it was obvious how mad you have to be to drive one of those! Excellent fun, I expect!