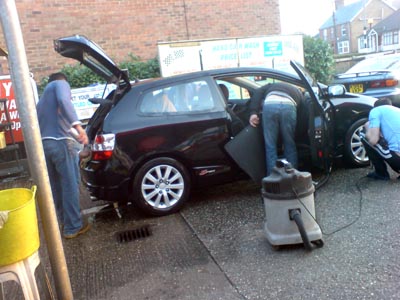 My mate Matt has a very dirty car. In fact,he took it for a service and got told off by the main dealer for the state it was in… my guess is that they didn't like the rodents they found in the back!
However, Matt is resourceful, and on finding that he would have had to spend a very long time indeed with a chamois leather, he took it to a nearby hand car wash, staffed by some energentic Europeans.
Now, I am a BIG fan of these places, and seldom do you see a team of folk working so hard for their money. Plus, the job is a good one – the car is inevitably going to be much cleaner than before, and since they also do the inside (all for less than a tenner), it's got to be worth while if your car is like Matt's.
There is a similar carwash near me – I love it! It's got to be better than doing this on your own driveway, and they certainly do a far better job than I would do anyway.
So, well done Matt… now don't leave it another two years before the next time! I note from the picture that you had a double helping of car hands to do your car… 🙂