The Essex 'Mini BETT' show is running on Thursday and Friday this week at Charter Hall in Colchester, Essex. It really shouldn't be called a 'mini BETT' but it is an old tag and it kind of stuck some time ago. However, lots of very good companies will be exhibiting at the show over the next two days, and Cleveratom are delighted to be part of that.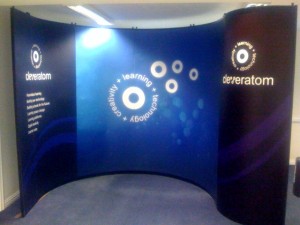 We will be showing off the personalised learning software with Edison Schools, as we were at BETT in January, but also the new and vastly improved community software for schools which we are using in Norwich college. We have several working names for it, and the one that we want to ask about when isitors appear at our stand is 'Thought Park' – an online space for communities, group activities, conversations and so on. It really is a seductive piece of software that is not trying to be another VLE. It would augment a VLE nicely, and it would be ideal for groups wanting to run colaborative projects. Aimed at secondary schools and primary settings, this is going to be interesting to see a response to.
If you are coming over to ExCite, do look out for us. We will be using a smaller display stand than we had at BETT, although it looks similar…
The 24th is the day of industrial action by teachers in England, and it is likely that the show will either be packed, because staff are not having to go to school, or empty, because teachers are staying at home! Either way, we'll be there, and we'll be keen to hear your opinions about what we are doing.
You will also be able to talk to someone from Edison Schools about PLiP – an ingenious process for introducing a personalised approach to learning, using software that we have created. The question we need an answer to is how would this need to be adapted to fit with how Primary schools like to work – after all, personalisation is not just for secondariy schools, is it?