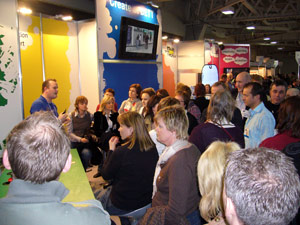 Last week I worked for four days at the BETT show and helped run the Create at BETT feature stand at the top of the stairs in the National Hall, Olympia, London. It was probably the busiest BETT show I've known in the last five years, and a delight to be working on such a high profile stand.
A number of partners made this stand exist. Apple computers gave their support with Alan Bennett from Apple Education Europe on the stand each day to answer questions and talk about the education market for Apple. Nick from AT Computers provided a stunning range of kit for us all to use (thanks Nick – really good!) and John from Reflecmedia provided a state of the art chromatte station with live chroma keying happening direct into iMovie. BBC Blast helped establish the stand and Learning Central were there to talk about innovative work with the BCS.
Matt from Cleveratom organised a group of children from King Harold School to be on the stand for four days to run the equipment and talk to the visitors. As ever, King Harold School pupils were brilliant! Their enthusiasm, infectious energy and determination to succeed meant that the stand never had a dull moment. Many thanks to Malcolm Burnett for organising the group and being there with them, promoting both their activities and our new company!
The image shows Matt giving (yet another) impromptu demonstration to some of the many, many visitors. We used iStopmotion from Boinx software to run some stop frame animation activities.
Both the stop frame animations and the chroma keying were used to create instant podcasts on the stand. It never ceases to amaze us how complex some pieces of software would have you believe a podcast is… don't be fooled! With relatively little skill and only simple software everyone can be podcasting at will. Email or phone us to find out how we can get you podcasting like a pro! We will happily run sessions in your place of work or school and show you exactly how easy it really is.
In addition to the Create at BETT stand, I was also working on the 'Tomorrow's Learners Today' stand, organised by Stephen Heppell of Heppell.net and situated in the middle of the Grand Hall on the main floor. This was a brilliantly interesting stand with a continuous flow of speakers all talking about building schools for the future. Some amazing presentations from people including Stephen himself, I was available to answer questions from the audience to follow up on the content and get people talking more about how to use the BSF programme in their own school. More about BSF another time – BETT was huge, and a great success!
More images from the stand can be seen by CLICKING HERE. This should open a new window with a web gallery in it.