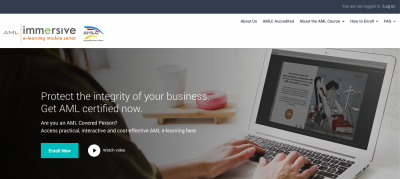 For most people, going to a face to face event is the only way they are going to get access to training when at work. Normally this means a day off work, a travel across the city and an expense for food and drink. The thought of travelling across Metro Manila is enough to put some people off attending training already, let alone when the training is all about a compliance subject such as Anti-Money Laundering (AML) that would make most people sleepy within a few minutes!
Up until very recently, the only way you could get your AML training or AML certification was to attend a face to face event, or if you work in a large organisation, you might be lucky enough to get your very own compliance officer talk to you about changes to the law. In some rare cases your company might buy in a specialist AML training officer for the day and put you in the company training rooms togged you up to date with the latest AML regulations and requirements.
Whichever way you look at it, AML certification costs are high, when you factor in the travel, training provider and loss of working time.
All of that was how AML training was done in the Philippines, but thankfully it's about to change.
With the latest AML regulations there is a requirement that all covered persons are trained regularly. Since there are many thousands of covered persons, and not many AML trainers or subject matter experts, the Anti Money Laundering Commission (AMLC) has been busy finding online service providers, such as Framedia-inc, to develop online learning content for anti-money laundering.

Framedia-inc are the first online provider to be accredited by AMLC, and have been through a very detailed and rigorous process to ensure their AML courses, presentations and videos are at the right quality and cover the right topics. Whilst AML training provided directly by AMLC is free, the online version is not, and there is a cost for the AML certification. The good news is the fees are low enough to be very tempting, and well within the budgets normally spent on AML training for employees.
Whereas your board of directors may want to go through their AML training in the comfort of some swanky hotel, complete with food and drinks supplied, that's not the way the rest of us will have to do it. For the normal staff member, going to any compliance training event is hard work, but not if it is online, and not if you can get your AML certification using your mobile phone!
Those clever people at Framedia-inc have not only designed and built interactive training modules which meet the strict requirements of AMLC, but they've done it in a way that means you can do your AML training from your phone, laptop or desktop computer. All of your progress is stored online, so complete a module during your morning commute by using your phone, do another on your work computer, and then finish another one using your laptop in the comfort of your own home!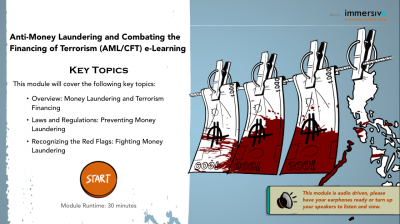 That's right, AML training can be done at times and places to suit you, and you do not have to travel half way across Metro Manila to get it done, either. Of course, if you wanted to, you could – but you could do a few modules during your commuting time (assuming you're not the one driving, of course!)
There are very few anti money laundering courses online and the ones you'll see are from companies based outside of the Philippines. Framedia-inc are a Philippine based company and the first one to get through the strict accreditation set out by AMLC. This means AML training can be done in the Philippines, to the standards set by the AMLC regulations and achieved in the comfort of your own home if you wish. It's not free, but it's not too expensive either.
AML training online with Framedia-inc costs start from 1500 peso for a single user, with discounts available for bulk purchases. You can get to the shop by visiting certified.ph and buying either the single user AML CFT training or the multi-user AML training course.
The sheer ease of organising your own training at times and places to suit you, with the added bonus of using any internet enabled device is a sure way to please your customers. Anti money laundering policy and procedures is a fairly dry topic, but made into online learning modules by Framedia-Inc they are both fun and informative. The interactive modules use a lot of specialist video so there is not a lot of reading to be done, but you'll then sit an anti money laundering questionnaire for each of the modules, leading to your final AML certification.
Your certificate is security coded so that it is only you that can claim it as yours. No amount of copying it will help – this AML certificate is protected, and can be checked at any time by a compliance officer or auditor.

Where before you only had to physically turn up to a training event to be guaranteed of getting your certificate, AMLC have set about making sure you also need to pass a relatively simple AML exam, or series of short exams, to gain your certificate. This is a really good thing, and means anyone getting their training will need to meet a minimum standard, making it far more reliable for employers to know who has been trained and at what level. Setting the standard for AML training is a key priority for AMLC, and the future looks to be even filled with even more rigorous approaches to training and certification will be adopted. It's best to get it done online now, whilst it's still new and relatively easy, and avoid the congested Manila traffic by doing so!