So the UK is in a big freezer compartment right now, and everywhere is pretty much covered with various levels of snow. As usual, the entire country grinds to a halt, when other countries, more regularly doused in the white stuff, seem to cope admirably well. I guess we're just not used to inclement weather here in this maritime climate.
All the more fun then when I found an entire road almost abandoned and had the presence of mind to stand and admire the scenery with my trusty Panasonic Lumix camera. In truth, this sign is but yards from my front door – well, I couldn't go out very far… it was snowing, y'know.
A quick snap later, and I thought I'd send it off to the BBC picture galleries. I was pleasantly surprised to learn shortly after that the picture was to be used as a main leader on the BBC Essex news website. It clearly made others chuckle as well as me, then.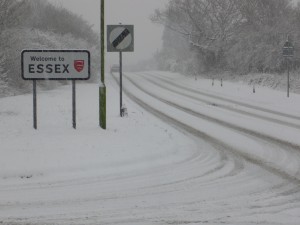 And as it appeared on the BBC Essex News website: